Switch in a few easy steps
Switching rates are increasing, but plenty of UK households are still yet to switch for the first time. Many energy customers are also on the most expensive default tariffs and would be far better off switching away from them..
You could save hundreds on your annual energy bill by switching your energy supplier, so if you're thinking of doing so, follow our step-by-step guide below. All you'll need to get started is a recent utility bill, or if you don't have one to hand, you can use our usage calculator.
Step 1: Enter your postcode
The energy tariffs available vary from region to region, so in order to give you a realistic figure, we need to know your whereabouts. 
Step 2: Tell us about your current energy supplier
If you know every specific detail, that's great. If not then don't fret, you can still tell us simple things, preferably about your supplier, which tariff you're on and how much energy you use. 
In order to get the most accurate comparison, take your precise energy usage from your utility bill and enter it into the section: Do you know how much you currently spend on energy?
If you aren't ready to switch right away, enter your email address to be sent a copy of your results. This way you don't have to repeat the process when you're ready. 
Step 3: Select the type of tariff you want
You'll be given a range of energy tariffs based on the details you entered during the previous step. The Monthly Direct Debit tariffs are the tariffs we recommend looking at as they tend to offer the best value for money. However, selecting to show all tariffs will give you the full picture on the energy deals on offer. 
You can choose to filter specific tariffs too, such as a fixed, variable or green/renewable tariff.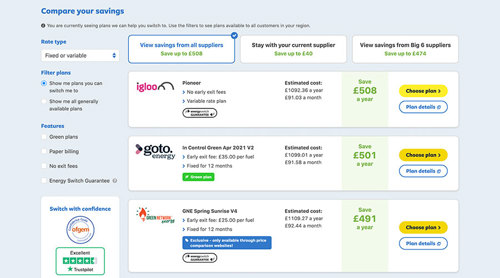 Step 4: Choose the deal for you
Switching to save money is obvious, but sometimes choosing the right deal for you goes beyond cost. For example, if you've had bad past experiences with poor customer service, you might be looking to switch to a more attentive supplier.
We're not here to promote any particular supplier, so we'll give you a low-down on all the tariffs available at the time of your comparison. No one compares more UK energy suppliers than we do, so take your time and thoroughly look through them in order to find the perfect deal to switch to. 
Of course, you're not obligated to switch if you don't find an alternate tariff to switch to. You can always come back at a later date to see if there are any newer, more suitable energy deals.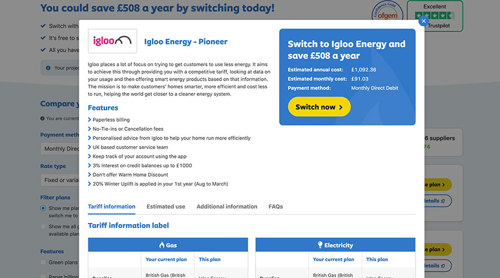 If you're worried you'll have second thoughts when you choose a new supplier, you'll be able to cancel the switch over process within 14 days. 
Step 5: Switch and start saving
If you've found the deal for you and are ready to switch, select 'Choose Plan' and begin the switching process. 
You'll now be moved onto the next stage of switching your supplier, where you'll have to enter a few more details before the process can be completed - it'll only take a matter of minutes. 
Once you've clicked 'Complete your switch', your new energy supplier will arrange the switch. You'll also receive an acknowledgement pack that'll contain information about your new contract, along with a welcome confirmation email within the first 4 days. From here you'll be able to activate your online account.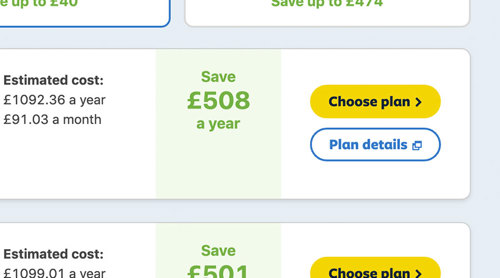 When you're given your supply transfer date, all you have to do is take a meter reading and send it to your new supplier. They'll then pass it on to your old supplier, where they'll either issue you with a final bill or give you a refund if you're in credit with them. And just like that, your switch is complete. 
During the changeover process there'll be no interruption to your energy supply, so if that's what's stopping you from switching, you needn't worry.