What is underfloor heating?
Underfloor heating is exactly what the name describes: it uses heating under the floor that rises and heats your home. There are a few types of underfloor heating that you can choose from. The technology tends to utilise either a "wet" system that pumps water through pipes under the floor, or a "dry" system that uses eclectic coils that heat up.
Whichever type of underfloor heating you're interested in, it's fair to say that it's a big undertaking. With this guide, we'll take you through everything you need to know about underfloor heating, including the pros and cons.
Underfloor heating vs radiators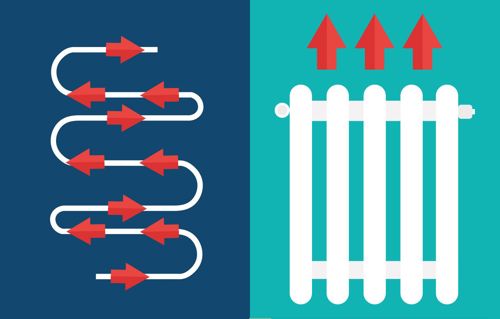 One of the big draws for underfloor heating is the idea that you'll be able to use it to replace your radiators. Depending on how you set up your heating, you can either switch completely to underfloor heating or use it combined with your existing radiators. For many, combining the two will represent the most cost-effective option, meaning you won't have to fully replace your heating system.
Underfloor heating is most commonly used in bathrooms, which is the first place you likely head in the morning. Many users will opt to install it in their bathroom and leave radiators to do the job in other parts of the house. How much underfloor heating you decide to go for will depend on your situation, but using them both in conjunction is completely viable.
Underfloor heating: the pros and cons
Before you decide to install underfloor heating, you're probably asking yourself a lot of questions about whether it's worth it. With so many variables attached to underfloor heating, it can be confusing to think about all that can go right and wrong. Here's the main pros and cons that you need to consider before planning your installation.
Pros
How Energy efficient is underfloor heating?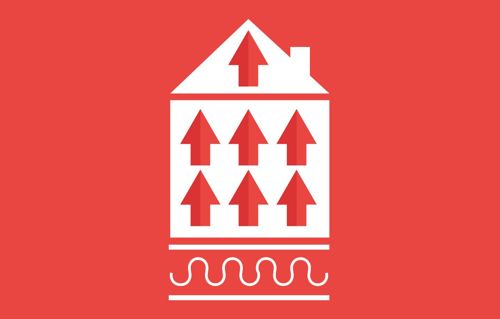 One of the biggest reasons to upgrade to underfloor heating is the level of energy efficiency it will allow. While a typical radiator will need to be heated quite highly to warm up a room effectively, underfloor heating requires a lot less energy to do the same job. For example, in order to heat up a room fully, underfloor heating only needs to reach around 29 degrees.
Underfloor heating also doesn't suffer from "cold spots" (where the air feels colder in the middle of the room) in the same way that radiators do. Heat coming from the floor will naturally heat the entire room.The obvious advantage of this is that the less you're using, the less your spending, so while installing it may be expensive, the long term savings may be worth it.
How will underfloor heating change your home?
A lesser-known advantage of underfloor heating is the improvement it makes to your home. Underfloor heating is an extremely desirable feature for potential home-buyers, so when the time comes to sell your house, you might find the value of it improved thanks to the installation. Even if you only include underfloor heating in one room, it gives your property a boost in the market.
Is underfloor heating safe?
Underfloor heating is actually much safer than running radiators in your home for a number of reasons. Firstly, a radiator can potentially burn someone who isn't expecting it to be hot, but with underfloor heating, the system is safely tucked away out of reach. The same goes for sharp edges and other surfaces - underfloor heating has nothing for a young child to bump into.
Radiant heat is also better for the air quality of the room, as it keeps the air more oxygen-rich and will allow it to circulate better.
Is underfloor heating easy to run?
After you install underfloor heating, it will need very little maintenance. The system is incredibly easy to run, with users able to change the temperature and the time the heating comes on via a thermostat or smart thermostat (such as Hive or Google Nest) in the same way that you would with standard radiators.
Underfloor heating comes in two different forms: Wet and Electric. Wet underfloor heating involves piping that links to your boiler, that fills with hot water in order to eat your home. This system is generally considered to be maintenance-free as it uses continuous piping with no joints, meaning no leaks.
Electric, or dry, systems is exactly what you expect, with an electricity-powered mat being laid under the flooring. This system is quite often used on stone or tile floors, and is helpful for irregular-shaped rooms. Electric underfloor heating can often be cheaper than the alternative and can heat up quicker.
Cons
How much does underfloor heating cost?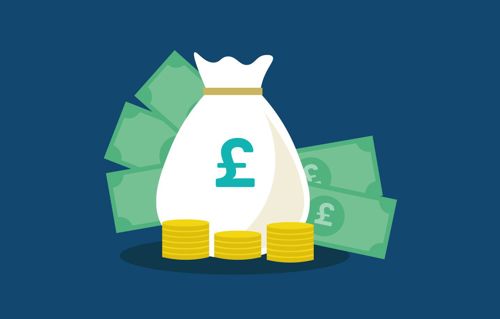 How much your underfloor heating cost will depend on what type you're going for and how much of your home you're installing it into. If you're choosing the electric system, this will be cheaper than the water system, which is a much bigger job to install.
Cost is a big barrier to entry for underfloor heating, with any type of job being more expensive than simply sticking with your radiators. However, with the long-term savings and potential value growth of your house, if you're able to afford the short-term cost, then you could see some returns on it in the future.
How long does underfloor heating take to install?
How long your project takes to install will again depend on the size and scale of the underfloor heating you're planning on taking. Using the water method is a significant job that could take a while, as it requires pipes to be installed. If you're having it done in your bathroom only, this shouldn't take too long, but other rooms will need a lot more maintenance.
Electric underfloor heating will take less time, as it simply needs laying and connecting to electricity. A lot of electric systems can be installed in a day, with the mat able to be tiled over.
Overall, underfloor heating is something that you might want to consider while renovating your property as a whole, as the process can be extensive and disruptive.
How long does underfloor heating take to warm up?
An underfloor heating system will often take longer to heat up than standardised heating, so it's advised that you have it on a timer so that it can be ready whenever you come home. From stone cold, underfloor heating can take a good few hours to warm up, which is why it's best to have it turn on in the night so it's ready for the morning. If you have more installed around your home, this will obviously lessen the amount of time it takes. Using your thermostat or smart thermostat effectively is important when running underfloor heating.
Is underfloor heating worth it??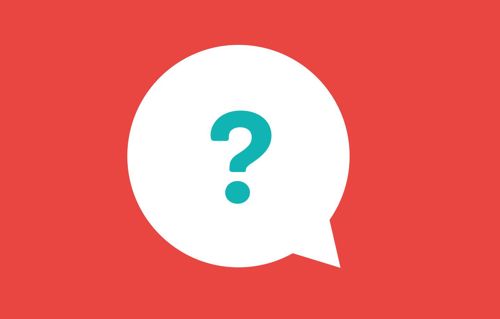 Whether you decide to choose underfloor heating or not will depend on a few factors. If you're building a new bathroom, renovating your home or adding an extension to your house, it's certainly something that can add a lot of comfort to your build. While the cost and installation process are something that you'll have to carefully consider, walking into a bathroom with a warm floor in the morning might make it all worth it.
Comfort is the name of the game here, with underfloor heating making your home more comfortable and minimalist, offering you more room to play with thanks to a lack of radiators. If you can afford underfloor heating, it's absolutely something you should consider, offering next-level comfort and even improving the value of your house.
To make the most of your underfloor heating, see how much you could save on your energy bills with Energy Helpline today.