Who is the Cheapest Business Electricity Supplier?
As prices vary from business to business, there is very rarely one cheapest supplier. The best supplier for your business will depend on how and when you use your energy.
Below you can find insight on the average business electricity prices per kWh for a small business.
| | | | |
| --- | --- | --- | --- |
| SUPPLIER | PRICE PER KWH | DAILY CHARGE | ANNUAL COST |
| BGLite | 28.66p | 25p | £7256 |
| British Gas | 29.39p | 38p | £7484 |
| Dual Energy | 23.03p | 23p | £5842 |
| EDF | 31.7p | 25p | £8016 |
| EON | 24.26p | 31p | £6178 |
| Scottish Power | 24.15p | 27p | £6136 |
| TotalGP | 23.52p | 35p | £6008 |
| Valda | 28.02p | 20p | £7078 |
| Yu Energy | 28.32p | 22p | £7162 |
Prices shown represent region 12/ London for a small business using 10,000 kWh of electricity per year. Rates correct at 26 September 2021 for a 1-year fixed contract. Tariffs vary by region and could change at any time.
Business Electricity for Large Businesses
Large businesses with high energy consumption often have specific requirements when it comes to switching to a new business electricity supplier. Our energy experts will be on hand to support you throughout your switch to ensure you get the most out of your business electricity tariff.
This may include providing tailored half-hourly tariffs for businesses with electricity consumption of more than 100,000 kWh per year. A half-hourly electricity meter offers the most accurate pricing available by providing your supplier with automatic readings every half hour.
If your business has an energy consumption of more than 70,000 kWh of electricity each year, you will be entitled to install a half-hourly meter.
Our expert team can also help your business arrange an energy audit to manage the costs of your electricity bills.
Are Business Electricity Prices Rising? 
Increased electricity demand and limited supplies caused by a variety of factors in world events caused business electricity prices to rise. 
This has made it difficult for organisations and SMEs to find prices cheaper than previous electricity rates they have had in the past. However, this isn't entirely new.
Business electricity prices have been increasing over the last decade, albeit slowly and at a steady pace. Recent events have caused a large and notable increase in business electricity rates. Here's how the trend looks: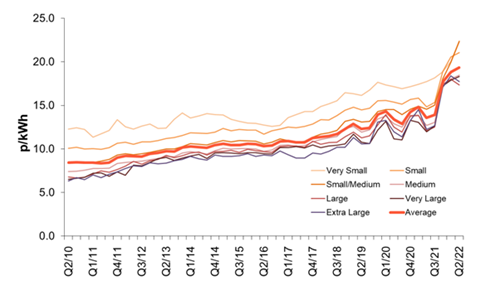 So, what should you do? 
Many business owners and office managers are still looking to compare business electricity prices and fix rates for peace of mind and cashflow predictability. It is uncertain how much more and longer business electricity rates will continue to increase, so fixing now could save money against any future increases. 
It may be worth considering performing an energy audit on your business premises to help you cut your energy bills. 
Why Switch with Energy Helpline?
Our goal is to help your business save as much money as possible on your business electricity and other utilities.
As energy costs increase, it has become more important than ever for businesses to find the right gas and electricity deals. At Energy Helpline, we work with a wide panel of trusted business energy suppliers to give you access the latest deals on the market.
You can compare prices quickly with our easy-to-use comparison tool. Once you've selected the right tariff for you, we'll take care of the rest of the switching process. We'll even be in touch before your new contract comes to an end to help you find another great deal.
If you're ready to compare business electricity quotes, you can click here to start saving today.