Have you ever wondered what your energy bill will look like in 2050, the year of Net Zero? 
It probably hasn't been something you're too concerned about, but as you can tell from the image below, we are...
At the best of times, energy bills aren't easy to read, and if you are an energy consumer who is billed online, you know the feeling of having to trawl through tabs to get the information you desire. Well, wouldn't it be so much easier if this is what an energy bill looked like?
Being able to see a real-time breakdown of each individual energy-consumer in your home with great precision is almost a certainty, as we can even see a relatively detailed breakdown at the moment with the help of smart home technology. We imagine a home where every television, fridge, oven and washing machine will be able to send the bill payer its exact usage for that month, without having to rely on the smart meters and energy monitors we find in our homes today.
As expected, with the majority of the population most likely going to be driving electric vehicles come 2050, we predict your EV will be first on your "top expenditures" list when your monthly (paperless, of course) bill arrives. 
With 2050 being the year of Net Zero, we'd also expect renewable electricity to dominate the energy landscape, powering the vast majority of homes across the UK. Don't you think it'd be cool being able to choose your own energy mix depending on the time of year? For instance, switching to solar power in the summer when, in theory, it'd be at its cheapest.
As we move towards a future of greater control, energy experts at energyhelpline.com have predicted how this smart home technology will impact our energy bills, including how much the average Brit can expect to pay on their home technology items in 2050.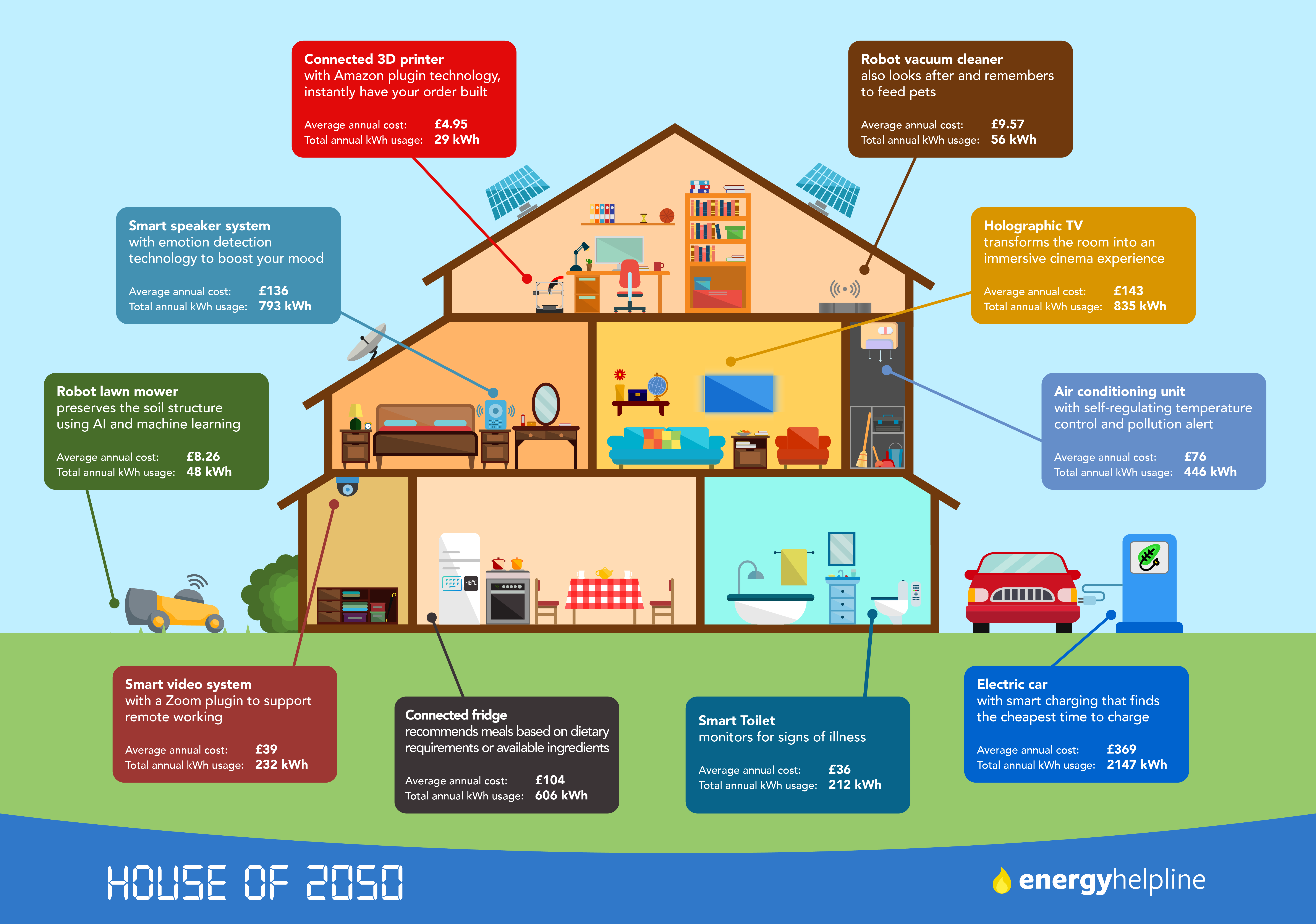 The House of 2050 above provides a nice insight into what we think a home in just under 30 years will look like. 
The electric car you see is based on the Tesla Model 3 we have today, and will cost the average owner just £369.20 per year in electricity, with smart charging choosing the cheapest times to power up your car. With the average UK driver currently spending £1,041.81 on petrol a year, you can expect to make a massive saving when the time of the EV comes. 
Compare our best energy deals and switch in minutes
Get started
With summers likely to become warmer due to climate change, we also predict air conditioning units could play a part in more UK households, which could help fill the hole made by savings elsewhere. At a time where savings are usually made due to the warmer weather, an increased number of heatwaves could see consumers paying an extra £76 a year in energy in order to keep their homes cool. But with the future possibility of smart energy storing devices, we might even see more and more energy consumers selling electricity back to the grid, much like the smart export tariffs those with methods of renewable energy generation have today. 
Tashema Jackson, energy expert here at Energy Helpline, comments: "Change can be exciting but nerve-wracking. The move away from traditional energy sources such as gas may leave many worried about the impact on their wallets."
"The power to choose your energy source on-demand will not only provide greater control but also help reduce costs by spreading the supply across multiple sources; it's a move that will not only benefit households financially but is better for the planet."
"But you don't have to wait for the future to take control. With the recent price cap news, those currently on a standard variable tariff can expect to see their bills increase by £139. But locking in a long-term fixed deal today – especially one that is green – will protect you from sudden price increases, as well as reducing your carbon footprint."