By now most people have become aware of the current problems with the energy industry. Wholesale prices have caused a surge in the cost of energy for suppliers, which means higher prices for consumers.
With the price cap going up in April, and potentially again in October, it means higher prices for consumers once again. We thought it would help if we broke down some of the different options for energy customers in the UK. If you're not familiar with the price cap then please visit our price cap unwrapped guide.
We have looked at those on a fixed tariff and those on a variable one. We have also looked at those whose supplier went bust, meaning they had to be switched to a new supplier chosen by Ofgem. Hopefully this helps!
Quick links:
I am on a variable energy tariff
My supplier has gone bust (switch complete)
My supplier has gone bust (switch in progress)
Fixed energy tariff
A fixed tariff is one that involves a set price, and this will not change until the tariff ends. It could be a year or two years, but it protects you from price rises. You should be able to see whether you are on a fixed tariff by checking your bill.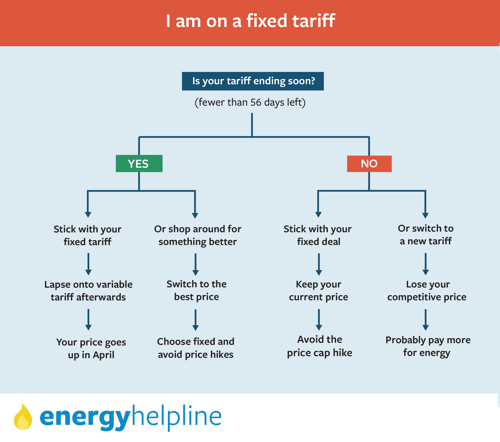 Variable energy tariff
A variable tariff can change in price at any time, and is limited by the price cap. You will be on one of these default tariffs if you haven't chosen a fixed deal. The price cap is reviewed twice a year, so you can expect your variable price to move in line with any changes. You are always free to switch from a variable tariff - there are no exit fees.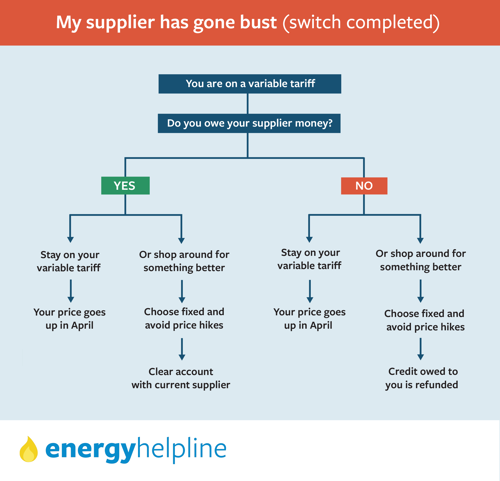 Supplier went bust: Energy switch completed
If you were with a supplier that went out of business, the most important thing to know is that your energy supply remains in place. It doesn't matter what happens to your supplier, this will continue. If your switch is completed then you have moved to Ofgem's nominated choice of supplier, and you'll be on a variable tariff.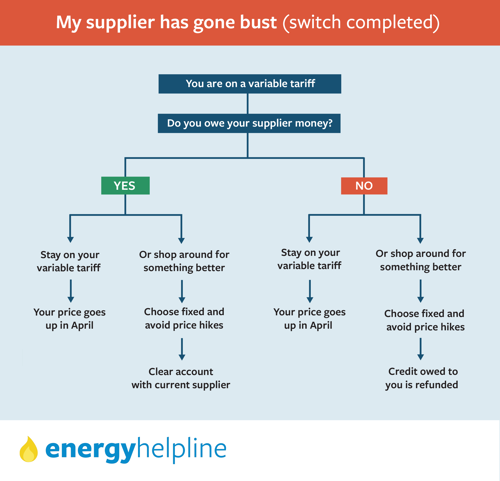 Supplier went bust: Energy switch in progress
Once again, your supply is protected. If you're currently in this limbo period where you are being switched to another supplier, Ofgem advises you to wait for the switch to be completed, otherwise it can really complicate the process. Once the switch is complete, you'll be placed on a variable tariff and you'll be free to switch at any time.