Helping you make sense of your energy bill
Energy bills can be intimidating to read, especially when you're unfamiliar with energy jargon like kilowatt hours, MPRN, and unit price.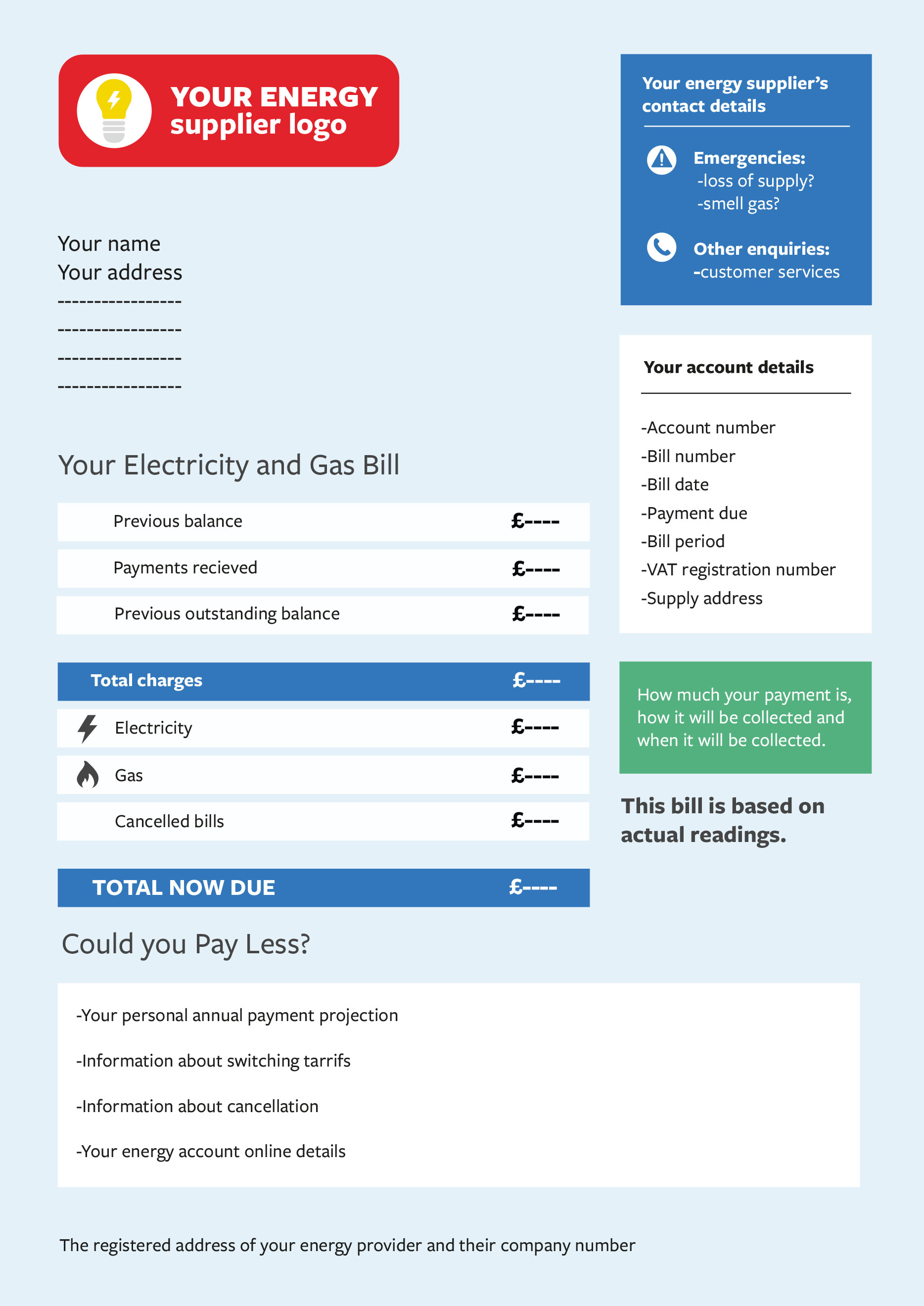 The first page of your energy bill will always contain key information such as personal details, billing information, and an overview of your charges. However, being able to understand information such as your electricity readings can make the difference between an accurate bill and an inaccurate one.
By understanding the ins out and outs of your energy bill, you can stay in control of your energy usage.
The bill presented below is intended to be a guide and it may not reflect the appearance of your own energy bill, but the contents and information (e.g. tariff information) will certainly be the same.
Page 1: Billing overview and customer information
Account number
Some providers will refer to this as a 'customer number' instead.
Much like a bank account number, this unique number identifies the account with your energy provider. This is useful to make a note of this so that you can manage your account online, or provide this number if you make a telephone query.
Bill number
This number uniquely identifies your bill. If you have any issues with a particular bill (e.g. incorrect billing amount, inaccurate readings), then you can simply reference the bill number to your energy supplier's customer service.
Bill date
This is the date that the bill was printed or made available online, which is normally the same date every month.
If you know when your energy bill is published, then it is recommended that you submit your energy readings the day before so that your billed amount is accurate and not based on projections.
Payment due
There are many different ways you can pay your bill, such as by Direct Debit, variable Direct Debit, standing order, etc.
If the payment date does not suit you and you are paying via Direct Debit, then you can change the payment date. For example, you can select a date that coincides with your salary pay date.
Bill period
This specifies the date range you are being charged for on the bill, and when your meter readings were taken.
It is pertinent to be aware of this information when you're moving home, as it is important to see if you're being billed for the correct date range at your previous property and your current one.
VAT registration number
You don't need to worry about this unless you intend to apply for a reduced energy rate for business purposes. Otherwise, domestic energy users are charged VAT at 5%.
Your electricity and gas bill
This is a simple breakdown of your energy bill that includes your electricity and/or gas charges. Any credit that you may have earned from a cancelled bill or otherwise is deducted from your final total.
Could you pay less?
Often featured on the first page of your energy bill, this section presents a personal projection of your annual energy expenditure (including VAT, discounts, and other charges relevant to you).
If you want to find a cheaper tariff that offers more, then you can compare tariffs from a range of suppliers to find a better energy deal for you and your household.
Page 2: Tariff information
About your tariff
This is an overview of your current tariff, and it will include information such as:
  - End date (if applicable)
  - Exit fees (if applicable)
You can use this information to compare it against other tariffs, whether it's one from your current supplier or another one. In other words, this is your tariff comparison rate.
About your usage
This presents a summary of your energy compared to the same period during the previous year, but this is only applicable if you have been with your supplier for over a year.
Page 3: Cancelled bills
This page will not appear in your energy bill unless you have:
  - Provided new information such as accurate energy readings
  - Recently changed tariffs
In the event of a cancelled bill, you will credit (CR) will be added to your account and can be deducted from future energy bills.
You can claim credit by calling your supplier, but it is advised that you leave the credit in your account as this can be used during periods of higher energy use such as the winter months.
Page 4: Your payments
As well as presenting your final bill total, this section presents a breakdown of your bill payment.
This includes the payment date, the payment type, and the amount that will be billed from your bank account.


Page 5: Electricity statement
This section presents a more precise breakdown of your energy bill by showing your meter readings at the start and finish of your bill period, kilowatt hour (kWh) usage, read type (i.e. how your meter was read), and the unit rate.
Total electricity charges and breakdown
Additional charges such as the standing charge and VAT are also included in the final total.
Electricity meter readings
As shown in the example below, this person's energy bill has been calculated by multiplying the kWh usage by the domestic electricity unit rate for December 2023.
Meter reading date 5th December – 7th December 2023
127 kWh £0.274 = £34.80
The 'Read types' table indicates how the meter reading was taken. In the case of the bill shown below, the reading was taken by the customer.
Taking your own readings will ensure you are being correctly charged for your energy usage, rather than relying on an estimate from your supplier.
Page 6: Gas statement
This section is similarly laid out to your electricity statement, and it includes your total gas charges, a breakdown of the charges, and your gas meter readings.
However, some bills will include an additional section to explain how your gas readings were converted into kWh. This is because gas use is measured in cubic metres (m³), but it is converted to kWh for billing purposes.
Understanding your energy bill: Major UK suppliers
We've created a selection of annotated bills from a number of the largest and most popular UK suppliers. Follow the links below to find out more.
Learn more about Scottish Power