Your EDF Energy Bill Explained
Energy bills contain lots of important information, and unfamiliar terminology - and EDF's energy bills are no different. But regardless of who your energy supplier is, it's important to understand what goes on in your bill, so we've put together this resource to make sure your bill easy-to-understand.
So whether you're trying to get in touch with EDF, or you are looking to switch energy suppliers, make sure you know how to find everything on your energy bill.
Compare our best energy deals and switch in minutes
1. Payments and balance
Your payments and balance overview is just a snapshot of what you've paid and whether you're in debit or credit. It's best to find yourself in credit over the warmer months, and then this accounts for your higher usage when it's cold. Your monthly payments are chosen based on your annual usage, and should see you in credit at the right time.
2. Payment review
Your supplier may choose to alter your payments based on changes in your usage. Usually this is done to ensure you don't end up owing too much in the colder months. You can contact your supplier if you're not happy with the change, but it can actually be beneficial for you in the long-run.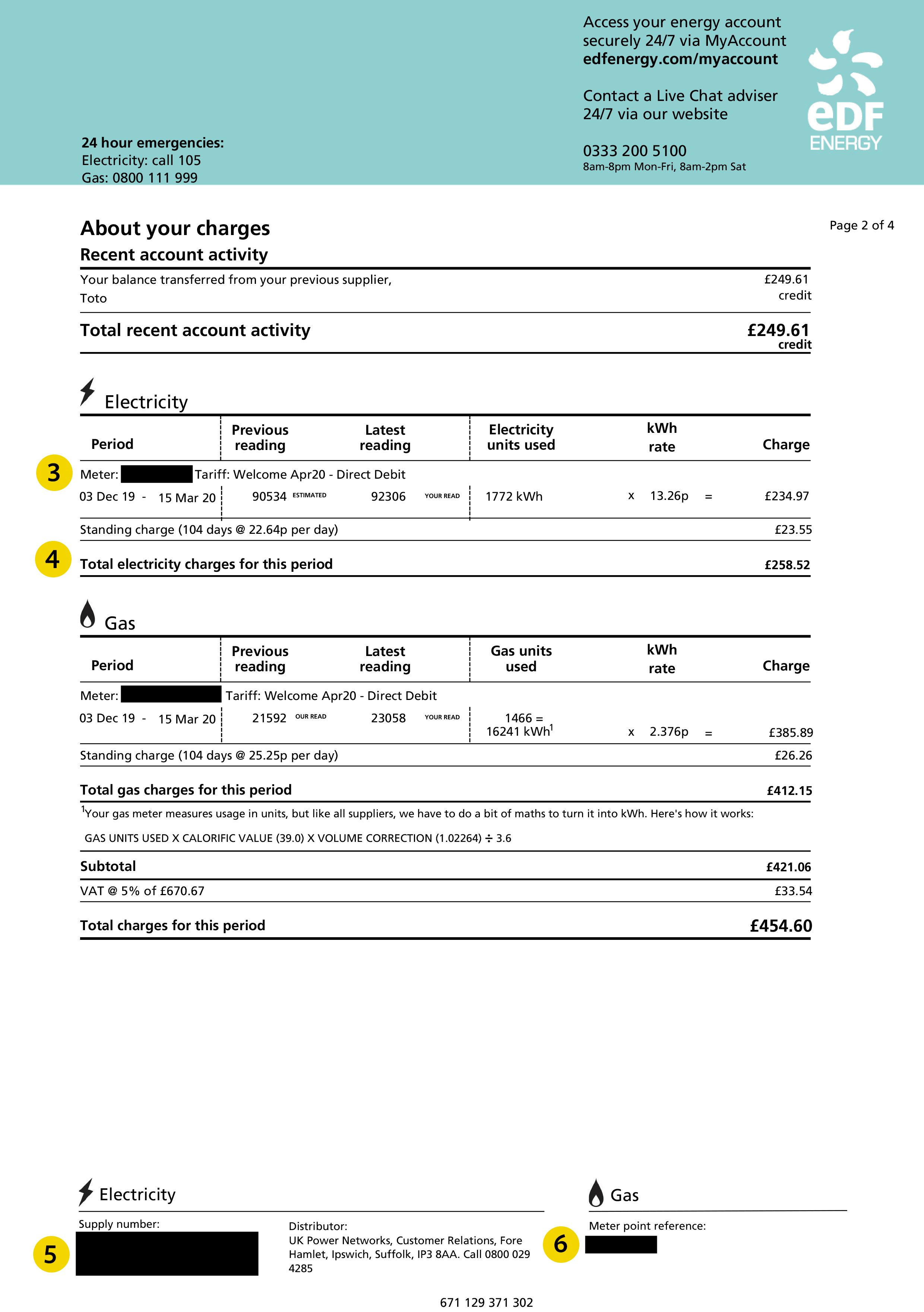 3. Tariff name
This is simply the name assigned to your fixed or variable tariff. It usually includes the month and year that the tariff ends, and after that you'll move onto the supplier's default tariff and probably pay more. It's a date worth remembering! This also appears on page 3, and it's much clearer there.
4. Energy usage and cost
Here you'll see your energy usage and cost. There are two different parts to your cost of energy - your unit rate and your standing charge. These are combined to create the cost of gas and electricity.
5. Electricity supply number (MPAN)
This is your electricity supply number, or Meter Point Authentication Number. You'll usually find it has an 'S' before it, and, as with the gas number, it can be handy to know where to find it.
6. Gas supply number (MPRN)
The MPRN is your Meter Point Reference Number. It refers to the number used for your gas supply, and your energy supplier may ask for this at some point, so it's handy to know what and where it is.
7. Payment type
This is a reminder of how you pay your bill, so if you see 'Direct Debit' then you know the payment comes out automatically. If you'd like to change this then get in touch with your supplier.
8. Exit fee
This is important information, as it warns you about any cost to exit your contract. If you want to switch during your contract and there is an exit fee, you'll almost certainly have to pay it. Some deals don't have an exit fee, leaving you free to switch at any time for no cost.
9. Tariff end-date
This confirms the end-date of your tariff. It's really important to make sure that you get a new deal in place, and you don't simply default to an expensive standard tariff. You have the option of either getting a new offer from your supplier, or shopping around for something better.
10. Estimates
These will let you know how much gas and electricity your supplier expects you to use. You can use this information when you compare energy deals and you are asked for your annual consumption, or you can do it based on how much you spend.
For more information on EDF Energy, check out our EDF Energy Supplier Review.
Compare our best energy deals and switch in minutes