Your SSE Energy Bill Explained
All energy bills contain important information, even if they use technical terms, so it's essential you know how to read your energy bill. This is true for SSE and their energy bills, or whoever your energy supplier is.
That's why we've put together this guide, to explain every aspect of SSE's energy bill, whether you're trying to make sense of your bill, or if you need specific details because you want to switch energy supplier.
Compare our best energy deals and switch in minutes
What does an example of one of SSE's energy bills look like?
Before walking you through SSE's bill, let's begin with an example of one of their bills. Yours should look similar to the sample bill below: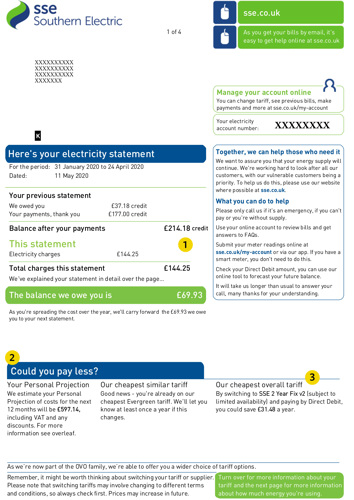 1. Payments and balance
Your payments and balance overview is just a snapshot of what you've paid and whether you're in debit or credit. It's best to find yourself in credit over the warmer months, and then this accounts for your higher usage when it's cold. Your monthly payments are chosen based on your annual usage, and should see you in credit at the right time.
2. Projections
SSE highlights your projected annual spend based on usage information. This leads on to information about the cheapest tariffs available from this supplier.
3. Tariff recommendations
If you could be saving money by switching to another SSE tariff then you'll find that information here. SSE highlights the cheapest similar tariff (for example, a green tariff), followed by the cheapest overall tariff. Get in touch with them if you want to switch.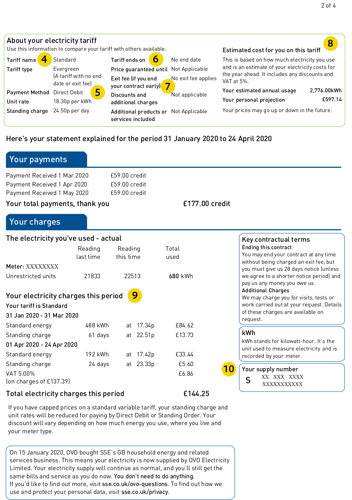 4. Tariff name
This is simply the name assigned to your fixed or variable tariff. It usually includes the month and year that the tariff ends, and after that you'll move onto the supplier's default tariff and probably pay more. It's a date worth remembering!
5. Payment type
This is a reminder of how you pay your bill, so if you see 'Direct Debit' then you know the payment comes out automatically. If you'd like to change this then get in touch with your supplier.
6. Tariff end-date
This confirms the end-date of your tariff. It's really important to make sure that you get a new deal in place, and you don't simply default to an expensive standard tariff. You have the option of either getting a new offer from your supplier, or shopping around for something better.
7. Exit fee
This is important information, as it warns you about any cost to exit your contract. If you want to switch during your contract and there is an exit fee, you'll almost certainly have to pay it. Some deals don't have an exit fee, leaving you free to switch at any time for no cost.
8. Estimates
These will let you know how much gas and electricity your supplier expects you to use. You can use this information when you compare energy deals and you are asked for your annual consumption, or you can do it based on how much you spend.
9. Energy usage and cost
Here you'll see your energy usage and cost. There are two different parts to your cost of energy - your unit rate and your standing charge. These are combined to create the cost of gas and electricity. SSE offers a comparison against last year on the following page.
10. Electricity supply number (MPAN)
This is your electricity supply number, or Meter Point Authentication Number. You'll usually find it has an 'S' before it, and, as with the gas number, it can be handy to know where to find it.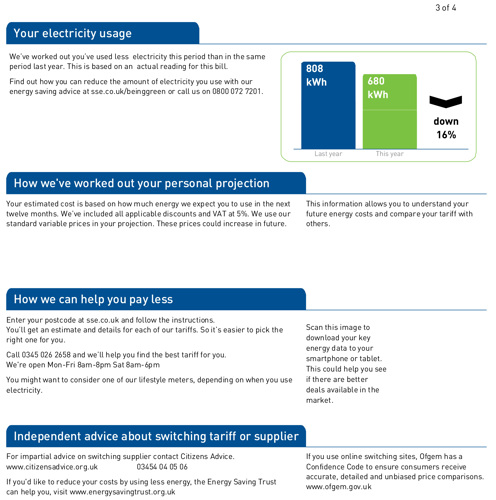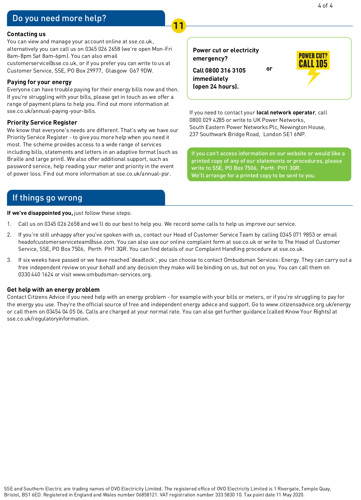 11. Contact information
Here you'll find various methods of contacting SSE. There's a lot of information packed into one page, but SSE makes the emergency/power cut contact number clear in the top-right corner. You'll also find emails, phone numbers and addresses, should you wish to get in touch about your account or a complaint.
Compare our best energy deals and switch in minutes