---
Energy price rises will total £927 million for 9.6 million customers of the six largest suppliers in the UK, according to our recently conducted research.
The price rise was announced on 5th February following a decision from Ofgem to increase the price cap, affecting the average price of a standard variable tariff (SVT), raising it from £1,042 to £1,138. 
Following the announcement, various energy suppliers have come forward revealing their default tariffs will be priced in line with the upper limit of the price cap, raising energy bills across the UK for millions. 
British Gas' 2.4million default tariff customers will see an average annual rise of £97 each from next month, while 2.3 million OVO Energy and SSE customers will face a combined £226m hike from the 1st April.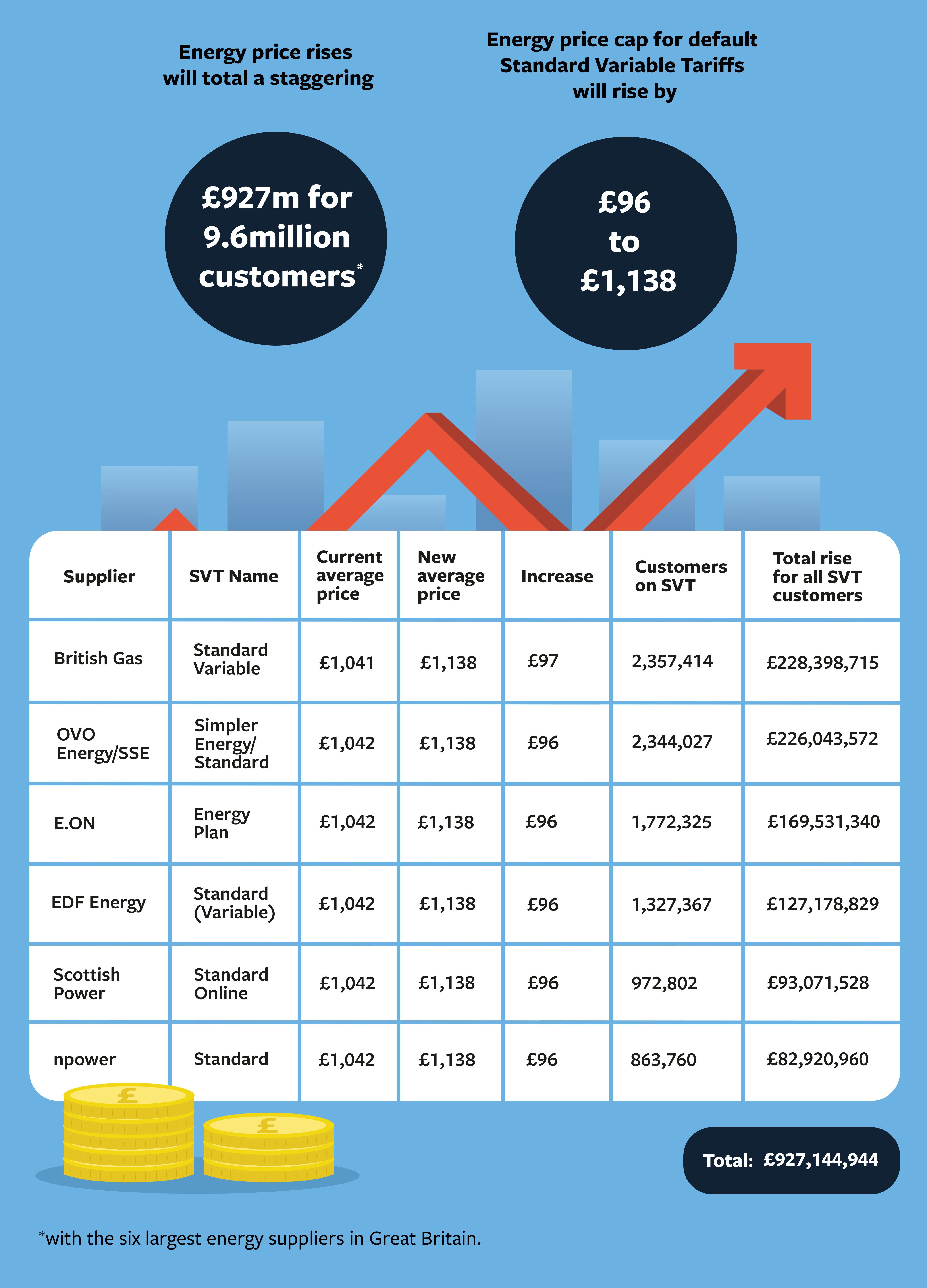 Tom Lyon, director of energy at energyhelpline.com, said: "These wide-ranging price hikes couldn't possibly come at a worse time for consumers, taking effect almost exactly 12 months since having to cope with the spiralling energy bills due to COVID-19 restrictions.
"With the number of homes in the red to their energy provider already at a record five-year high, the surge in debt is only set to get worse. That's why we are calling on the Government to do more to help households, by temporarily cutting VAT on bills and reforming the Cold Weather Payment so it better helps the most vulnerable to keep warm."
"If you are worried about paying your bill, speak to your supplier as soon as possible to discuss ways they can help. It's also important to send regular meter readings, if you don't have a smart meter, to your provider so your bill is accurate and to avoid any nasty surprises later in the year."
"While the price cap affects some of the most expensive deals on the market, fixed deals are unaffected and switching to a competitive fixed tariff will lower bills and lock in prices for 12 months or more. However, rising wholesale costs have increased the prices of the most competitive tariffs on the market by 17% since last April, so consumers are strongly advised to switch and fix sooner rather than later."
Switch and fix your energy prices to protect yourself
Switching to an energy deal with a fixed energy price will protect you from the price rises. While the price cap has still affected the cheapest fixed deals on the market, they still remain a much cheaper and safer alternative.