EDF Energy: Supplier Guide 
As a trusted and accredited energy comparison service, Energy Helpline is here to bring you specific supplier reviews. If you're looking to switch and have found a great deal with a supplier you don't know much about, reading these guides might just be in your best interest. 
In this specific supplier review our focus will be on EDF Energy, where we will aim to tell you about every area of its business so you don't have to go sifting through various pages on EDF Energy's website. To see, how EDF's tariffs compare against other energy suppliers, compare them below.
Compare EDF Prices
EDF Renewables UK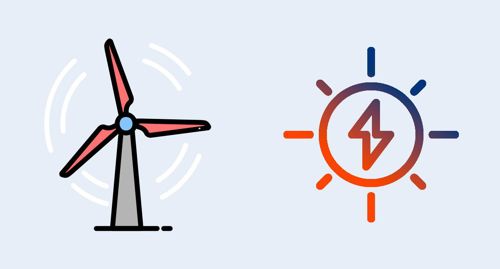 EDF's main focus is to help Britain achieve its goal of Net Zero by 2050 by being Britain's largest generator of zero-carbon gas and electricity. EDF Renewables is a renewable energy company built with the good of the planet in mind, taking on the responsibility of developing and building renewable infrastructure. 
Owning 33 wind farms in the UK and two off-shore, EDF Renewables is one of the United Kingdom's leading names in renewable energy. Specialising also in solar and battery storage technology, EDF Renewables is constantly seeking further expansion in the name of green energy throughout the UK and Europe and is designing more modern methods of producing wind energy to bring the price of energy down for energy consumers across the UK. 
| Features | Service Offered |
| --- | --- |
| Online Billing | Yes |
| Direct Debit | Yes |
| Smart Meters | Yes |
| Mobile App | Yes |
| Flexible Payment Options | Monthly |

EDF Energy's Energy Tariffs
For home energy customers, there are a number of tariff options available from a 1-year to a 3-year fixed rate. You can also choose a variable rate tariff that can increase or decrease in line with the Ofgem price cap.
 
Some of the features across the tariffs include: 
  - Account management via the app
  - Exit fees (on fixed-rate tariff)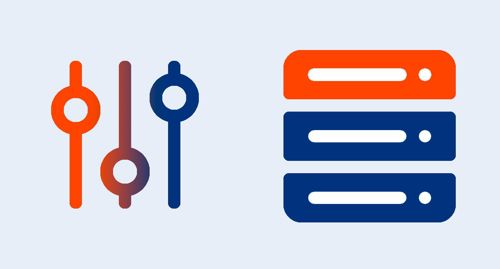 EDF Business Energy Prices 
EDF business energy prices per kWh are based on the average cheapest tariffs for December 2023. 25,000 kWh annual consumption, all terms, UK-average price per supplier.


| Fuel | Unit Rate (p/ per kWh) | Daily Standing Charge | Annual Cost (£) |
| --- | --- | --- | --- |
| Electricity | 28.1p | 25p | £7,115 |
| Gas | 9.3p | 25p | £2,411 |
EDF Energy FAQs
How Do I Pay My EDF Bill?

The payment methods EDF offers depend on the tariff type you opt for when you become a member of its customer base, as you can see from the list of EDF tariffs in the section above. 

However, there are various means of payment that EDF Energy accepts. These are as follows:

 

  - Online payment or mobile app payment

 

 

 

 

 

 

 

Paying online or via the mobile app

Paying your EDF energy bill online is easy thanks to your MyAccount. Follow the steps below to make a payment online:

 

 

  - Click on the 'Make a Payment' link

 

  - Enter the amount you want to pay

 

  - Click to enter your card details or select to use a stored card

 

  - Complete the fields on the card payment page

 

 

Paying over the phone

You can make an automated payment over the phone by calling EDF's free-to-call number on 0333 200 5108. 

Direct Debit

When you first take out a tariff with EDF you'd have had the choice to make your payments via Direct Debit. If you did not choose this option and wish to set up a Direct Debit to pay your energy bills each month, you can do so online via MyAccount. 

Choosing to pay by Direct Debit is the most efficient way a person can pay for their energy as it spreads the higher cost of your winter energy across the whole year. You also get the lowest unit rate across all other payment methods. 

Prepayment

If you are a prepayment customer, you can pay your EDF energy bills by topping up your prepayment card or key at a PayPoint, Payzone outlet or at the Post Office. 

Smart Pay As You Go

You can use the EDF mobile phone app to top up your smart Pay As You Go meter. With the app, you can also check your balance, and set up auto top-ups while also being able to view your top-up history. 

Cash or Cheque

You can pay your energy bills by cash or cheque by visiting your bank or building society, which might also incur a fee. If you want to pay for your energy via cheque, you should make the cheque payable to EDF Energy Customers Ltd and your EDF Energy account number should be written on the back. 

Bank transfer

If you want to pay for your energy via a bank transfer, EDF Energy's bank details are as follows:

Account number: 13845095

Sort code: 40-05-30

The reference must be your EDF account number. You can find your account number on your latest bill and it starts with the number '67'.

How Can I Get Support With My EDF Energy Bill?

Priority Services Register

If you're having a particularly tough time due to stress, illness, bereavement, disability or debt, EDF Energy has a Priority Services Register you can sign up to gain extra help, which can be accessed via EDF's Help and Support tab on the website.

Emergency numbers

As all good energy suppliers should, EDF Energy has emergency numbers on its website. 

It has a 24-hour gas emergency services number: 0800 111 999. This is the number you need to call if you have any concerns regarding carbon monoxide or gas leaks. 

For electrical emergencies, you'd need to dial 105, which will direct you to the network distributor's emergency number for your area. This is the number you'd call if you have any concerns over an electrical fault in your house or if there is a power cut in your area and you'd like to know more information. 

Moving home

If you're an EDF Energy customer and you are moving home, this section tells you everything you need to know and the process that takes place. There's an area for existing customers moving home and an area for customers who are moving home and want to become a customer of EDF Energy. 

Does EDF Offer Additional Services?

Home Insulation

To improve the energy efficiency of your home in order to stop expensive hot air from leaking into the cold outdoors, EDF offers insulation services that start from just £136. They state that adding insulation to your loft, walls and floor can help you save up to £530 a year on your energy bills.

Low-Carbon Heat Pump Installation

From £3,999 EDF Energy can install low-carbon heat pumps, which are designed to replace boilers using low-carbon technology that's four times more efficient than gas with similar running costs. 

Replacement Gas Boilers

EDF Energy has a replacement boiler service, teaming up with BOXT, the number one-rated gas installation and heating service on Trustpilot. Next-day installation is available if booked before 3 pm! 

How Can I Contact EDF Energy?

We've previously mentioned the Help and Support tab on EDF's website when we walked about extra help and customer vulnerability, which EDF caters for particularly well. There's also a tab that provides contact details if you need to get in touch with EDF Energy for whatever reason.

There's an array of topics you can select to take you to the appropriate areas of the site where your issue might be able to be solved. There is also a dedicated FAQs page where customers' most popular questions have been answered, which might mean you don't have to waste your time waiting on the phone to speak to an EDF customer service advisor.

EDF Energy's live chat service is available for anyone who'd rather instant message on a web browser than pick up the phone and wait in a queue, too. This service is available for both customers and non-customers. 

What Is EDF Energy's Contact Number?

You might have to do a bit of digging for the EDF customer service numbers, so we thought we'd help you out and put the ones you'll need most here for you: 

General account enquiries (Mon-Fri 8-8, Saturday 8-2): 0333 200 5100

Submit a meter or make a payment (automated 24-hour line): 0333 200 5108

Prepayment meter enquiries (Mon-Fri 8-8, Saturday 8-2): 0333 200 5110

Smart meter enquiries (Mon-Fri 8-8, Saturday 8-2): 0333 200 5104 (to book installation) or 0333 009 7000 (for general enquiries)

Renewing energy tariff (Mon-Fri 8-8, Saturday 8-2): 0333 200 5100

Priority services helpline (Mon-Fri 8-8, Saturday 8:30-2): 0800 269 450

In order to improve its service to its customers, EDF Energy also has an area under Help and Support where you can submit a complaint if you're unhappy about an area of EDF's service. 
EDF's Customer Ratings
EDF Energy is generally regarded as one of the best energy suppliers in the UK right now. Out of over 14,000 reviews, EDF has an impressive 'Excellent' score on Trustpilot with a 4.5-star rating. 
Heard enough about EDF Energy and want to switch?
Here at Energy Helpline, we could be moments away from helping you switch to an amazing EDF Energy deal, along with showing you other great deals that are currently on the market from an array of other fantastic energy suppliers. 
All you have to do to get started is enter your postcode and then enter some details about your current energy supplier and you're away. 
Compare our best energy deals and switch in minutes
Your EDF Energy Bill Explained
Energy bills contain lots of important information, and unfamiliar terminology - and EDF's energy bills are no different. Regardless of who your energy supplier is, it's important to understand what goes on in your bill, so we've put together this resource to make sure your bill is easy to understand.


So whether you're trying to get in touch with EDF, or you are looking to switch energy suppliers, make sure you know how to find everything on your energy bill.


Compare our best energy deals and switch in minutes
1. Payments and balance
Your payments and balance overview is just a snapshot of what you've paid and whether you're in debit or credit. It's best to find yourself in credit over the warmer months, and then this accounts for your higher usage when it's cold. Your monthly payments are chosen based on your annual usage and should see you in credit at the right time.


2. Payment review
Your supplier may choose to alter your payments based on changes in your usage. Usually, this is done to ensure you don't end up owing too much in the colder months. You can contact your supplier if you're not happy with the change, but it can actually be beneficial for you in the long run.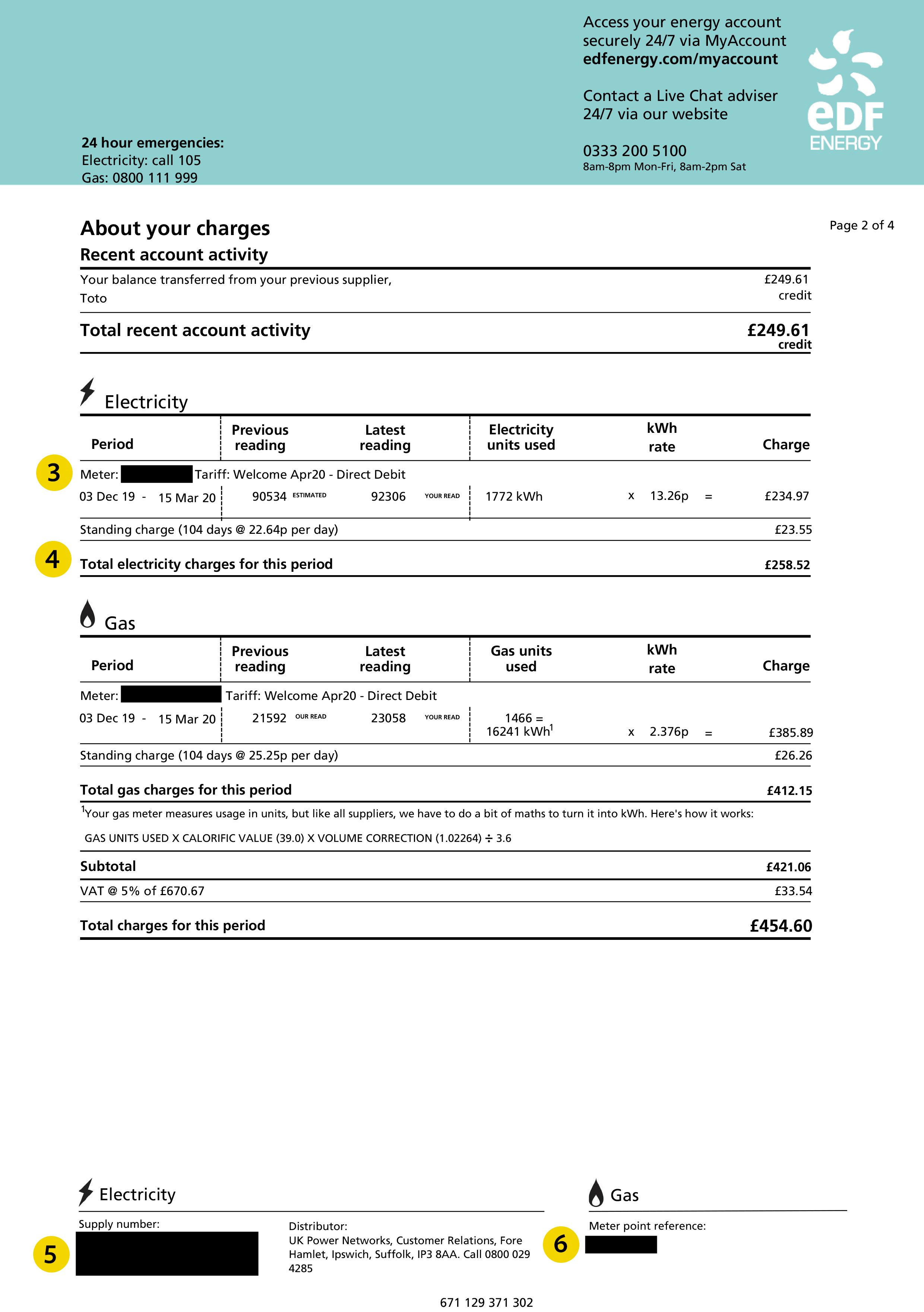 3. Tariff name
This is simply the name assigned to your fixed or variable tariff. It usually includes the month and year that the tariff ends, and after that you'll move onto the supplier's default tariff and probably pay more. It's a date worth remembering! This also appears on page 3, and it's much clearer there.


4. Energy usage and cost
Here you'll see your energy usage and cost. There are two different parts to your cost of energy - your unit rate and your standing charge. These are combined to create the cost of gas and electricity.


5. Electricity supply number (MPAN)
This is your electricity supply number or Meter Point Authentication Number. You'll usually find it has an 'S' before it, and, as with the gas number, it can be handy to know where to find it.


6. Gas supply number (MPRN)
The MPRN is your Meter Point Reference Number. It refers to the number used for your gas supply, and your energy supplier may ask for this at some point, so it's handy to know what and where it is.


7. Payment type
This is a reminder of how you pay your bill, so if you see 'Direct Debit' then you know the payment comes out automatically. If you'd like to change this then get in touch with your supplier.


8. Exit fee
This is important information, as it warns you about any cost to exit your contract. If you want to switch during your contract and there is an exit fee, you'll almost certainly have to pay it. Some deals don't have an exit fee, leaving you free to switch at any time for no cost.


9. Tariff end-date
This confirms the end date of your tariff. It's really important to make sure that you get a new deal in place, and that you don't simply default to an expensive standard tariff. You have the option of either getting a new offer from your supplier or shopping around for something better.


10. Estimates
These will let you know how much gas and electricity your supplier expects you to use. You can use this information when you compare energy deals and you are asked for your annual consumption, or you can do it based on how much you spend.
For more information on EDF Energy, check out our EDF Energy Supplier Review.
Compare our best energy deals and switch in minutes