Scottish Power: Your Energy Supplier Guide 
Scottish Power is one of the UK's largest energy suppliers and has firmly remained in the 'Big Six' for many years. They're also one of the market leaders in renewable energy with dedicated Electric Vehicle (EV) tariffs. Scottish Power is a subsidiary of the Spanish utility company, Iberdrola Group - a world leader in wind-powered energy. 


Compare Scottish Power Deals
| Features | Service Offered |
| --- | --- |
| Online Billing | Yes |
| Direct Debit | Yes, they only accept DD payments |
| Smart Meters | Yes, existing customers can check if eligible once live |
| Mobile App | Yes |
| Flexible Payment Options | Monthly fixed DD, Monthly Variable, and Quarterly Variable options are available |
| Green/ Renewable Energy | Yes |
| Trustpilot Review | 3.8/5 |
| Optional Paper Billing | Yes, both paper and paperless bills are available to choose from |
| Priority Register | Yes, customers can contact Scottish Power Customer Service to update |
Is Scottish Power A Good Energy Supplier?
Scottish Power has a Trustpilot rating of 4.1 out of 5, a great rating based on the market average. Many customers praise the accuracy of billing and customer service but complain about clarity around market conditions.

One standout theme is that Scottish Power encourages self-service help with lots of online tools and guides; including a helpful online chat. However, some customers view this as a negative as it can be a difficult task to interact with a human due to busy phone lines. 


Key features:
  - Webchat open 7-days a week
  - Aims to answer calls in under 3 minutes

Scottish Power Energy Tariffs - Domestic 
Whether you're a domestic or business energy customer, there are lots of tariff options available from Scottish Power. You'll be able to choose between fixed and variable tariffs, depending on your circumstances and what you may benefit from. 


Here is an example of a selection of Scottish Power home energy tariffs available in Winter 2023; based on an example of an average three-bedroom home. 


Tariff/ Details
Electricity Unit Rate (p/ per kWh)
Gas Unit Rate (p/ per kWh)
Monthly Cost (£)

Help Beat Cancer Flexi Price Energy until Jan 2025



Supports Cancer Research UK 



£150 exit fee per fuel

27.58p
7.85p
£192.88

Flexi Price Energy + Boiler Insurance Until June 2025

100% green electricity

£100 exit fee per fuel

30.13p
7.9p
£200.15

Standard Variable

No-tariff end date

Prices could go up or down

27.21p
6.89p
£180.14

Help Beat Cancer Flexi Price Energy until June 2025

Supports Cancer Research UK 

£100 exit fee per fuel

30.13p
7.9p
£200.15
Business Energy Prices Per kWh 2023
Example based on UK Scottish Power prices in December 2023 and 25,000 kWh usage per fuel. 


| Tariff/ Details | Unit Rate (p/ per kWh) | Standing Charge | Annual Cost (£) |
| --- | --- | --- | --- |
| Electricity | 26.5p | 97.9p | £6,979 |
| Gas | 9p | 30.6p | £2,350 |
Scottish Power Electric Vehicle (EV) Charging Solutions 
Scottish Power offers 100% renewable electricity as part of its tariffs, meaning that you'll be going green no matter the tariff chosen. 

On top of this offering, they have a range of charging hardware solutions to help you manage the costs of charging your EV. For business customers, solutions include installation, maintenance and a software management platform. 


Public EV Charging Solutions 
Scottish Power offers fully funded charging points for business premises with a wide range of 'speeds' available. With all costs covered from installation to management, it is a great way to improve footfall for your business and branding opportunities. 

If you think your business could benefit from an EV charging point, Scottish Power have outlined ideal guidelines that make a great location: 


  - Unrestricted 24/7 access
  - Space for 2 charging points per 3 parking spaces 


Where public areas are not available, but your business wants to adopt EV charging; there are lots of competitively priced solutions available along with more advanced fleet options. 

Scottish Power Fuel Mix 
This is the Scottish Power fuel mix across all tariff types.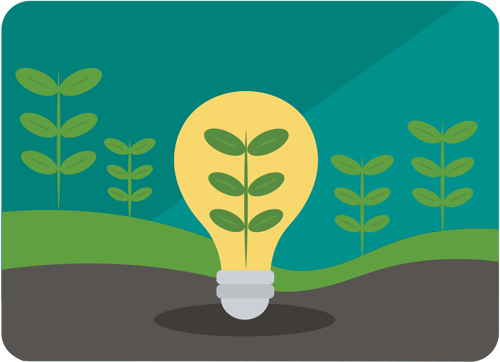 What is Scottish Power's Contact Number?
You can contact Scottish Power's customer service on 0800 027 0072 between the hours of 8.30 am to 7 pm in the week and between 8.30 am to 1 pm on Saturdays.


What Extras Does Scottish Power Have?
Alongside its standard tariffs, Scottish Power customers can enjoy an array of extras as part of the service. The supplier offers boiler covers as well as other home appliance covers, such as washing machines, tumble dryers, dishwashers and fridge care. You can also get plumbing insurance through the company, covering you if you need emergency drainage repairs or internal plumbing repairs.
Scottish Power also offers an electric car charger that you can purchase alongside your tariff. You'll be able to save money by buying it from Scottish Power if you already have a tariff with them, making it a great choice if you have an electric car.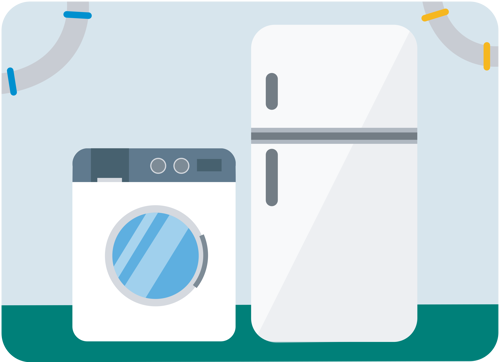 Should I Switch To Scottish Power?
Whether you decide to switch to Scottish Power or not depends on the sort of energy tariff you're interested in. Those for whom renewable energy is a priority are certainly well serviced here, with 100% renewable electricity no matter which tariff you choose. With Energy Helpline, you can compare your current tariff to those across the UK energy market, including Scottish Power. With a full range of fixed and variable tariffs, finding a tariff that's right for you is easy.
Compare Scottish Power Prices
| Fuel | Unit Rate (p/ per kWh) | Daily Standing Charge | Annual Cost (£) |
| --- | --- | --- | --- |
| Electricity | 29.1p | 97.9p | £7,632.90 |
| Gas | 9p | 30.6p | £2,371.00 |
Your Scottish Power Energy Bill Explained
Energy bills contain lots of information that you need to know, so it can be a little overwhelming to make sense of them in one go. And for customers of Scottish Power, that holds true as much as for any other supplier.


To help you navigate your way around your energy bill, we've put together this explainer to make everything crystal clear for you. Knowing what's in your energy bill is important to understand, especially if you switching energy suppliers.


What does an example of one of Scottish Power's energy bills look like?
Before walking you through Scottish Power's bill, let's begin with an example of one of their bills. Yours should look similar to the sample bill below:




1. Payments and balance
Your payments and balance overview is just a snapshot of what you've paid and whether you're in debit or credit. It's best to find yourself in credit over the warmer months, and then this accounts for your higher usage when it's cold. Your monthly payments are chosen based on your annual usage and should see you in credit at the right time.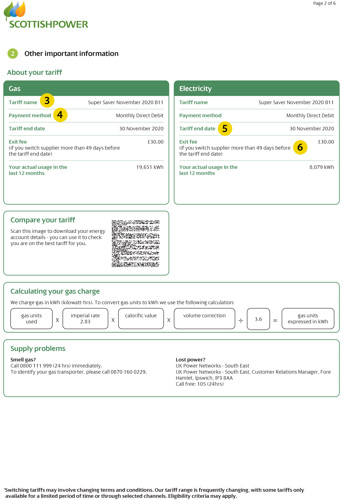 2. Tariff recommendations
If you could be saving money by switching to another Scottish Power tariff then you'll find that information here. Scottish Power highlights the cheapest similar tariff (for example, a green tariff), followed by the cheapest overall tariff. Get in touch with them if you want to switch.
3. Tariff name
This is simply the name assigned to your fixed or variable tariff. It usually includes the month and year that the tariff ends, and after that you'll move onto the supplier's default tariff and probably pay more. It's a date worth remembering!
4. Payment type
This is a reminder of how you pay your bill, so if you see 'Direct Debit' then you know the payment comes out automatically. If you'd like to change this then get in touch with your supplier.
5. Tariff end-date
This confirms the end date of your tariff. It's really important to make sure that you get a new deal in place, and that you don't simply default to an expensive standard tariff. You have the option of either getting a new offer from your supplier or shopping around for something better.
6. Exit fee
This is important information, as it warns you about any cost to exit your contract. If you want to switch during your contract and there is an exit fee, you'll almost certainly have to pay it. Some deals don't have an exit fee, leaving you free to switch at any time for no cost.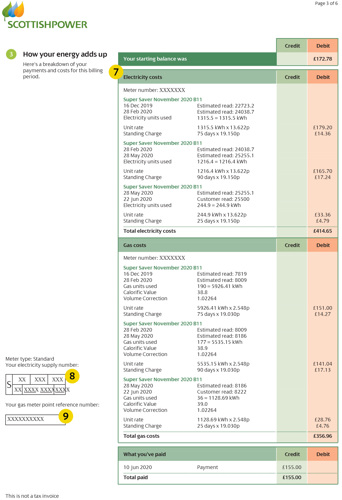 7. Energy usage and cost
Here you'll see your energy usage and cost. There are two different parts to your cost of energy - your unit rate and your standing charge. These are combined to create the cost of gas and electricity.
8. Electricity supply number (MPAN)
This is your electricity supply number or Meter Point Authentication Number. You'll usually find it has an 'S' before it, and, as with the gas number, it can be handy to know where to find it.
9. Gas supply number (MPRN)
The MPRN is your Meter Point Reference Number. It refers to the number used for your gas supply, and your energy supplier may ask for this at some point, so it's handy to know what and where it is.
Compare our best energy deals and switch in minutes