It's incredibly important that we all do our bit to help take care of the environment and reducing your energy usage is a brilliant way to shrink your carbon footprint.  
There are a number of ways that you can do this, but investing in some eco-friendly home technology will help you to keep your energy consumption lower over a longer period of time.  
Here's several of our favourite green gadgets that, if used properly, could really help make a difference in the amount of energy you use.  
Energy saving kettle
We Brits love a cuppa and while it only requires a tiny amount of energy to boil the kettle each time, this will start to add up as it's done again and again throughout the day.  
Energy saving kettles employ a variety of different functions to reduce their consumption including using significantly less power when boiling water, keeping water warm so you don't have to boil them as often and having a smaller capacity so you only boil what's needed.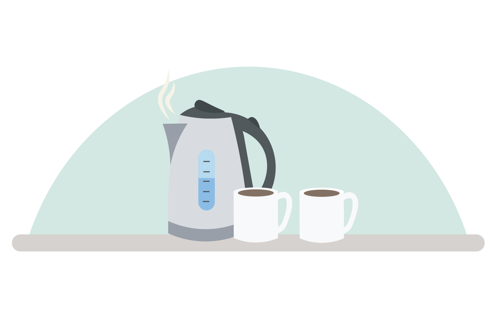 Smart meter
A smart meter is a type of free energy meter that automatically sends your gas and electricity readings to your supplier.  
While it won't automatically reduce your energy consumption, the accompanying in-home display allows you to track your energy usage in real time so you can see exactly where you need to cut down.
Water efficient shower head
A water efficient shower head is able to reduce the amount of water you use by regulating its flow or mixing it with more air thankfully without sacrificing any of the pressure.  
As well as helping you to go green, a water efficient shower head can reduce the price of your bills too. According to the Energy Saving Trust, using one could save a four-person household as much £28 a year↑ on their gas bill and around £47 a year↑ on their water bill!
Smart plugs
Your devices and home appliances, like TVs, desktop computers, games consoles and microwaves, can waste quite a bit of electricity while in standby mode. In fact, it can add as much as £30 a year↑ onto your energy bill.  
Via an app or a home voice assistant, smart plugs allow you to easily make sure everything's turned off at the wall. Certain models will even show you how much electricity what's plugged in is using so you can see it's time to upgrade to a more efficient version.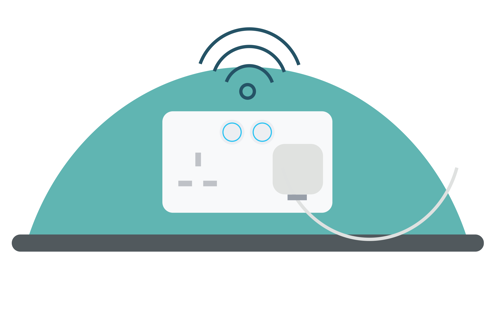 LED light bulbs  
An LED light bulb will use an impressive 90% less energy* than a traditional incandescent one making them an excellent and relatively inexpensive way to help reduce your carbon footprint.
You could reduce your CO2 emissions by up to 40kg a year↟ by replacing all the bulbs in your home with LED lights. That's the same amount of CO2 that's generated by driving a car around 140 miles!
Smart thermostat
Smart thermostats help you to lower your energy use by giving you greater control over your heating. You can turn it on or off remotely via an app, ensure it's only on when you're at home and depending on the model, also use it to control your hot water settings.
You'll get even more out of your smart thermostat if you combine it with other heating technology. By using a smart thermostat, a programmer and thermostatic radiator valves properly, you could save up to £70 a year↓.
Chimney balloons  
When you don't have a roaring fire on the go, cold air can enter your home through the chimney lowering the temperature throughout your home.  
A chimney balloon will block this flow of cold air which will help to keep your home nice and warm so you don't end up reaching for the thermostat. Installing one could save you around £50 a year↡, just remember to remove it before lighting a fire! It may get damaged and end up becoming useless.
Solar panels  
Installing solar panels on your roof allows you to partly power your home with clean, renewable electricity. They have a significantly higher upfront cost than all of the other gadgets on this list but do have an average lifespan of between 25 to 30 years.  
Not only should you be able to recoup your costs, but you'll also be able to enjoy using environmentally-friendly electricity for far longer. Depending on where you live in the UK, a typical solar PV system could save around 1 tonne of CO2 every yearꜛ!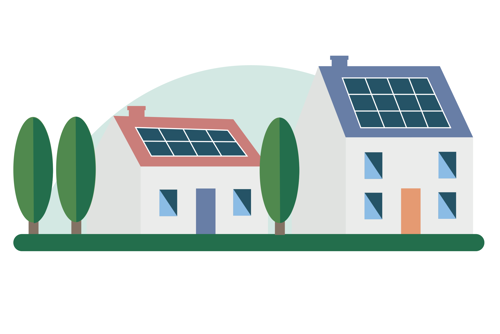 Caveat
↑Energy Saving Trust - June 2021. Calculation is based on the assumption that a family of four takes 20 showers a week and replaces a 10 litre/minute power-shower head with a 7.7 litre/min water efficient shower head, and the family are charged £2.68 per cubic meter of water used (includes sewage charge).
*Which? - June 2021. LED bulbs use 90% less energy than traditional incandescent bulbs.  
↟Energy Saving Trust - June 2021.  
↓Energy Saving Trust. Typical savings for a typical three-bedroom semi-detached home, heated by gas. Figures are based on fuel prices as of June 2021.
↡The Sun - October 2020.  
ꜛThe Energy Saving Trust - July 2020.